Description
If you want that loved one to have a fun, safe, high-valued drone flying experience there is no better first-step than this course.
Here's how it works:
Make your gift certificate purchase for this course at the highly discounted price of $124. You save $125!
After you purchase your gift certificate You will be directed to the Thank You page, confirming your payment for the certificate.
On our side, we receive an email showing your purchase of the certificate. We will then prepare an email back to you which contains your recipient's personal coupon code and the printable gift certificate. (Note: It may take up to 48 hours for us to email it to you.)
Gift certificates do not expire. The code can be used by only one student. The course and all lectures are available to the student forever and can be absorbed leisurely, and repeatedly. The recipient will love you forever.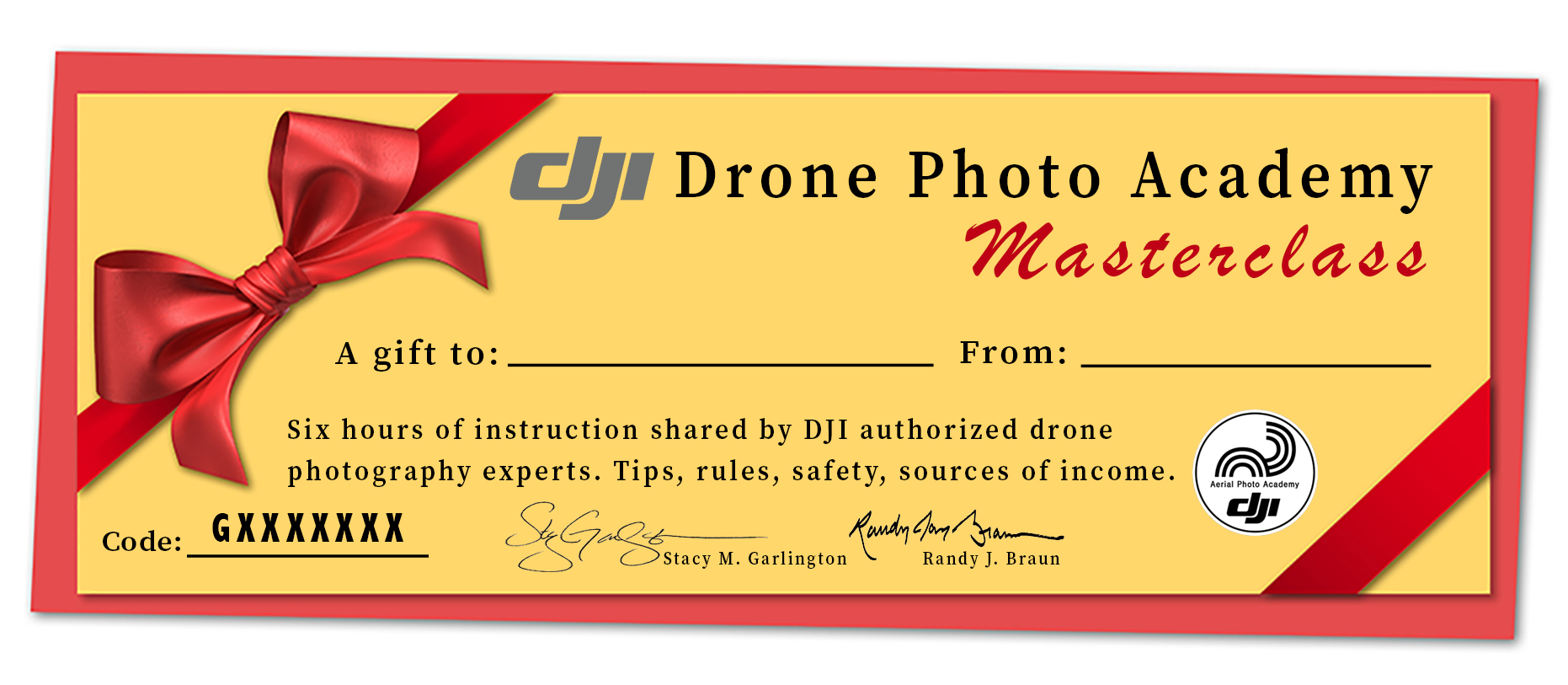 What the recipient receives is full access to our Premium Masterclass, the full sha-bang! Instructors Randy & Stacy have taught this exact program in 194 cities to 7,200 students face-to-face. Now, finally, this essential drone class is available to you online.
Learn to make top quality aerial photos.
Find paid jobs.
Understand the rules of the sky.
And so much more!
Once enrolled, the recipient will have access to six full hours of instruction, along with multiple downloadable resources. These lessons are to be absorbed by the student, at their own pace. Pick and choose favorite sections and they can skip past any lessons as they wish. In the end, a certificate of completion will be waiting for your beloved gift certificate recipient.
This Dynamic Duo of Drones is the world's only team to be directly authorized by DJI's headquarters to teach aerial drone photography with DJI drones.
Instructors
This Dynamic Duo of Drones is the world's only team to be directly authorized by DJI's headquarters to teach aerial drone photography with DJI drones.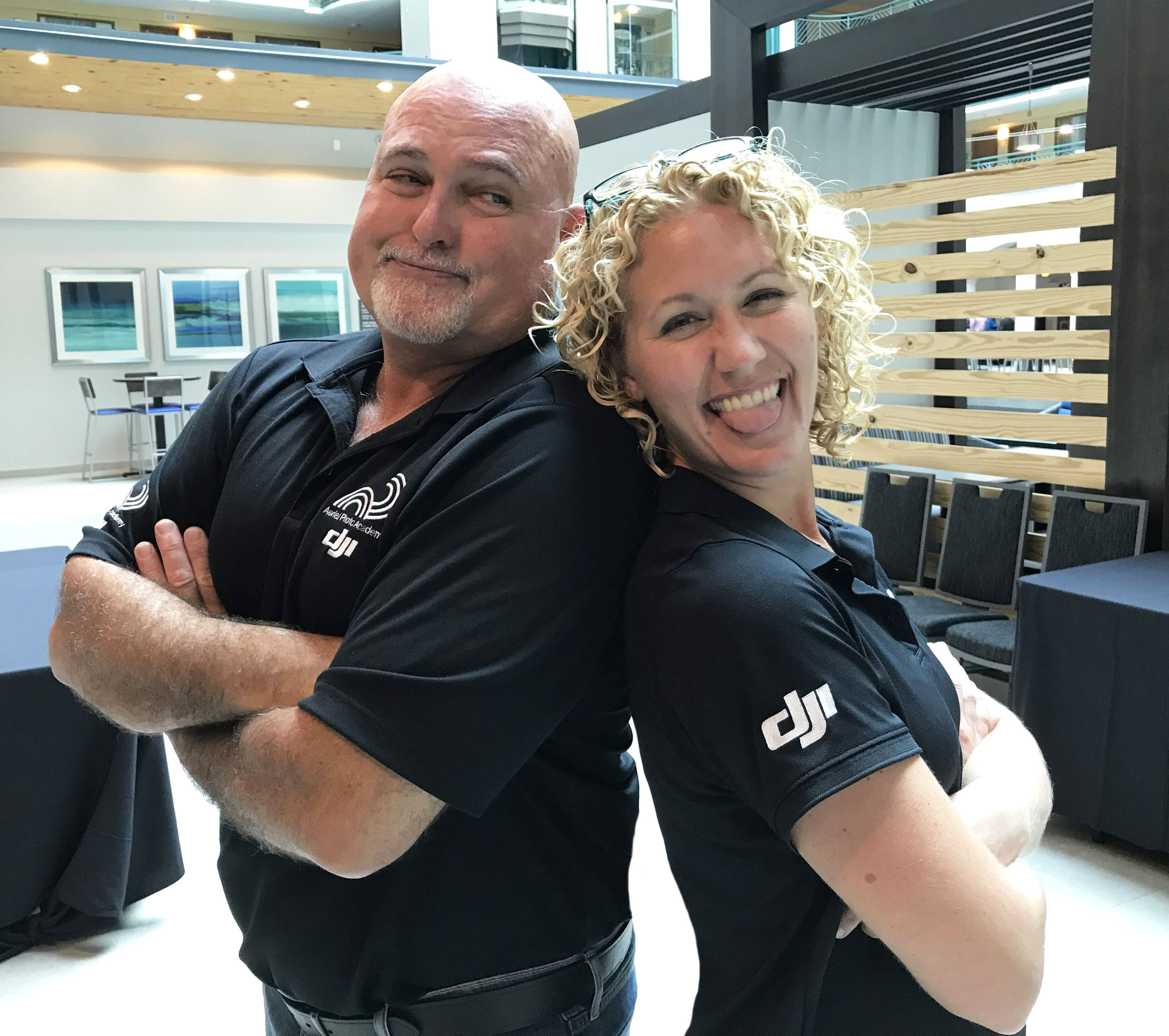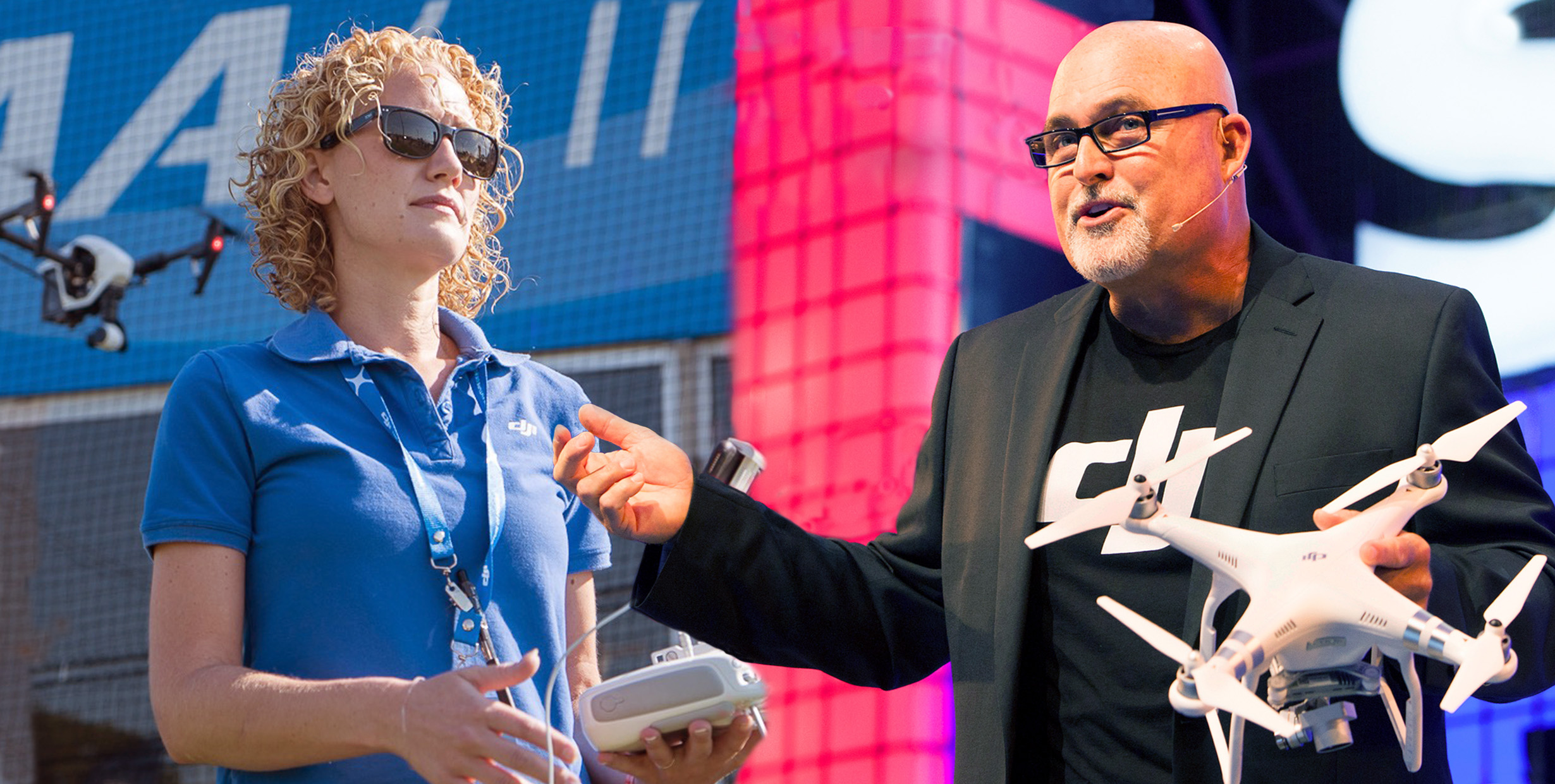 Randy Jay Braun is likely the most experienced drone photography instructor on the planet. He brings to this drone workshop a lifetime of professional photography experience, with more than 200 drone classes and workshops under his instruction.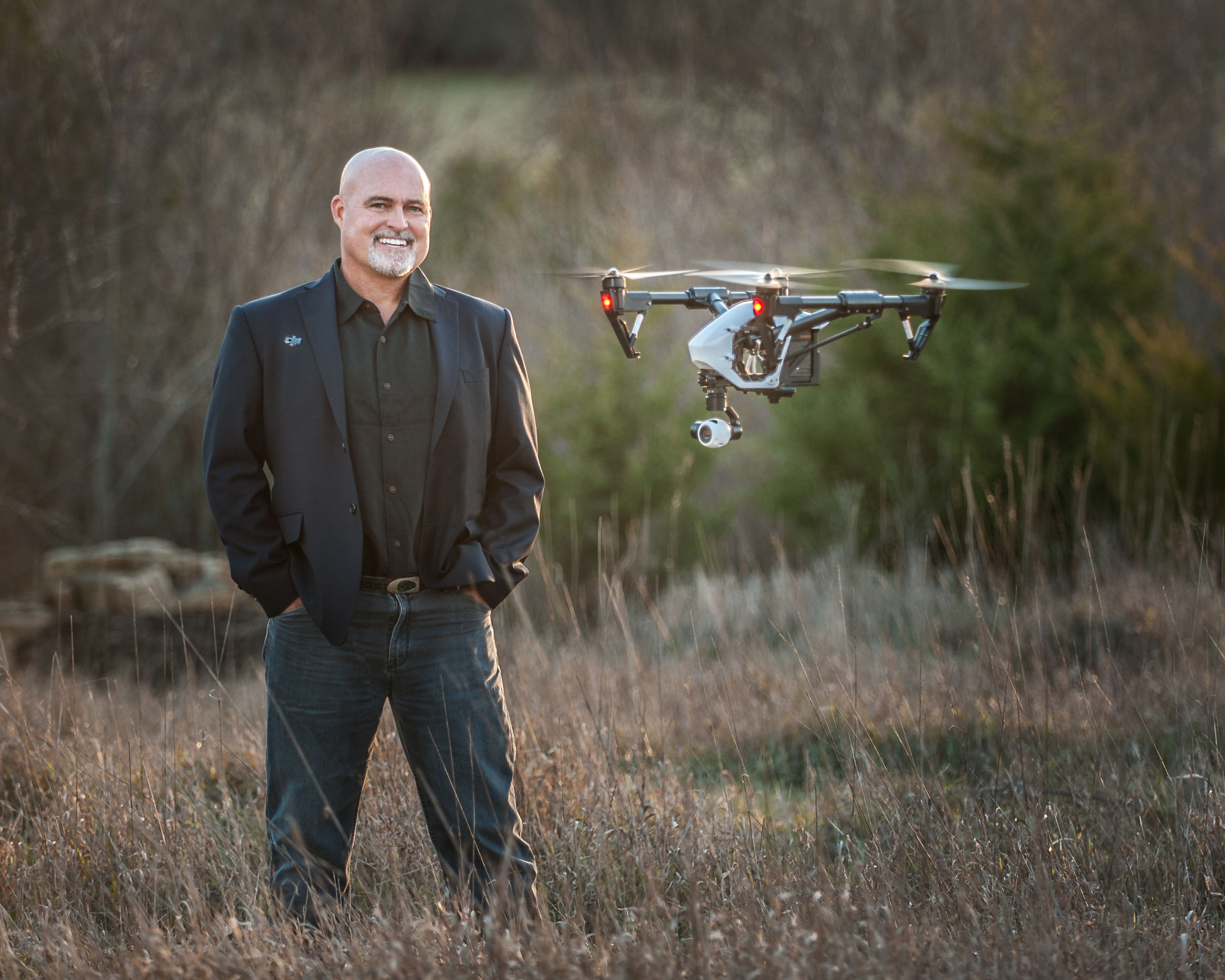 The DJI Phantom quadcopter came onto the market in late 2012. Braun was one of the first professional photographers in the world to adapt to this new genre of aerial image capture. He began testing prototype drones and cameras for DJI, the world's largest drone company. DJI solicited Braun's help to promote the Phantom consumer drone across social media channels in the Western world.

In 2014, Braun published the first-ever book about the topic, entitled, Aerial Drone Photography: Essential Methods with Your Phantom Quadcopter.
DJI hired Randy Braun full-time in 2014. After several weeks working with the company founders in the Shenzhen, China headquarters, Braun helped open the first official North America office in the basement of a co-worker, in Silicon Valley, California.
Braun served as Director of Product Experience for DJI. He traveled worldwide demonstrating practical and unlikely uses of the new quadcopters. Braun split time between the Shenzhen Headquarters and Silicon Valley for three years as the company began its rapid global expansion. Braun was part of the launch teams for the Inspire 1, Phantom 3, Phantom 4, Mavic Pro drones.
Braun created DJI's Still Photography Development Team, insisting that small drones would forever change the playing field of photography. During this tenure, he became an international expert; a spokesperson for aerial drone photography, lecturing at every major photography and drone conference worldwide.
In 2017 he left the corporate headquarters and co-founded the DJI Aerial Photo Academy, a traveling workshop series teaching drone photography skills across North America. As an official partner of DJI, Randy Braun and co-founder Stacy Garlington produce and instruct drone photography workshops in fifty cities annually.
Other accolades include:
Thirty five years as a full-time professional photographer.
Owner of three Randy Jay Braun fine-art photography galleries – Maui, Hawaii.
Owner of the Randy Jay Braun Portrait Studio, the most prominent photography studio statewide.
Created the Randy Jay Braun collection of Hula/Hawaiian vintage cultural images, collected and distributed globally.
Creator of scores of photography adventure tours leading groups throughout Italy and Hawaii.
Stacy M Garlington discovered the potential of DJI Phantom 1 quadcopter during her personal quest to become a more astute photographer. She attached a GoPro camera to the drone and practiced her flight and aerial photography skills voraciously. At the same time, DJI was expanding into North America.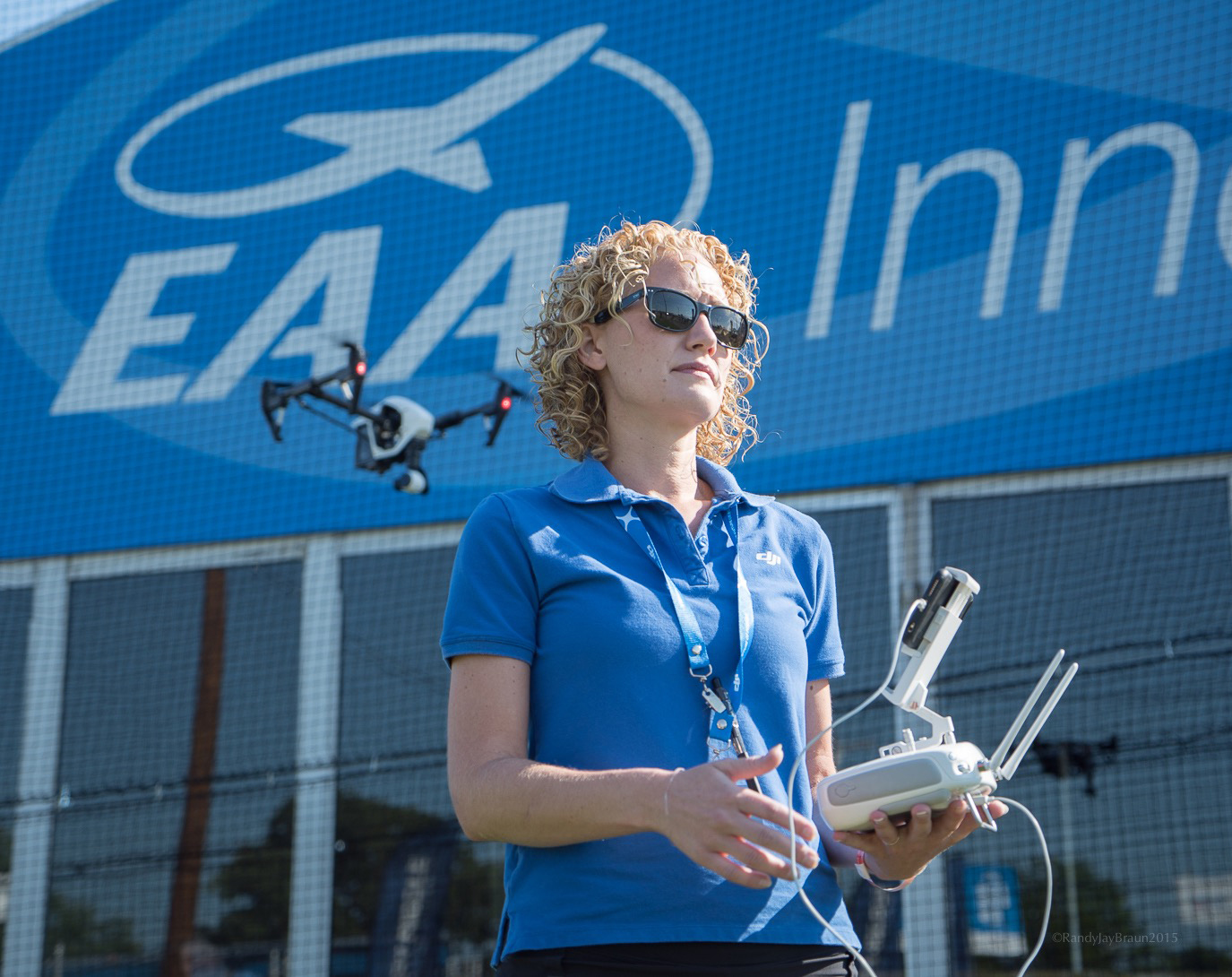 DJI recognized Garlington's skills. She was hired at the new Silicon Valley office as Product Experience Specialist. She continued to solidify her flying abilities, developing a technical knack for flying in difficult locations and situations.
DJI brought Stacy Garlington to the Shenzhen, China headquarters in 2014 to expand her responsibilities in the drone industry.She quickly became DJI's lead demo pilot and a spokesperson for the Phantom drone series.
An underlying interest in photography guided her path during her next two years with DJI. After teaching literally thousands of corporate and private students, Garlington earned her reputation as a top aerial photography coach. Her accomplishments include:
Lead drone operator for NOAA permitted humpback whale research team Keiki Kohola Project 2017- present
TEDx presenter: Perspective From Above
Published in: TIME, Forbes & GQ Magazines
Hands-on drone training for New York Times, Wall Street Journal, BBC, & CNN staff reporters.
Featured instructor at Adobe MAX, Santa Fe Photography Workshops, Photoshop World & Imaging USA annual conferences.
Featured profile in DJI Video collection: Journey to the Sky
Featured profile story in Lynda.com documentary: Flight Club
Skypixel.com Gallery World Tour contributor
Selected for book publications Masters of Drone Photography and Above the World – Earth Through a Drone's Eye.
Phantom 3 launch event keynote presenter before a worldwide online & live press audience.
Co-developer of DJI's internal Still Photography Development Team.
Taught 5000+ individuals how to safely fly and use drones for aerial photography.
Find out why Randy & Stacy are the only instructors authorized and sanctioned by DJI headquarters to teach drone photography using DJIdrones.
Affiliate disclosure: Some of the links in this article may be an affiliate link, which means Drone Outlook may get a commission for purchases made through some of the above links. You will not pay more when buying a product through the above links, and you may occasionally receive a lower rate through coupon codes negotiated by Drone Outlook on these links. Thanks for your support!